SEGRO breaks ground at SEGRO Park Rainham
Posted: 24th Jan 2017 | Written by Katrina Gilbert
---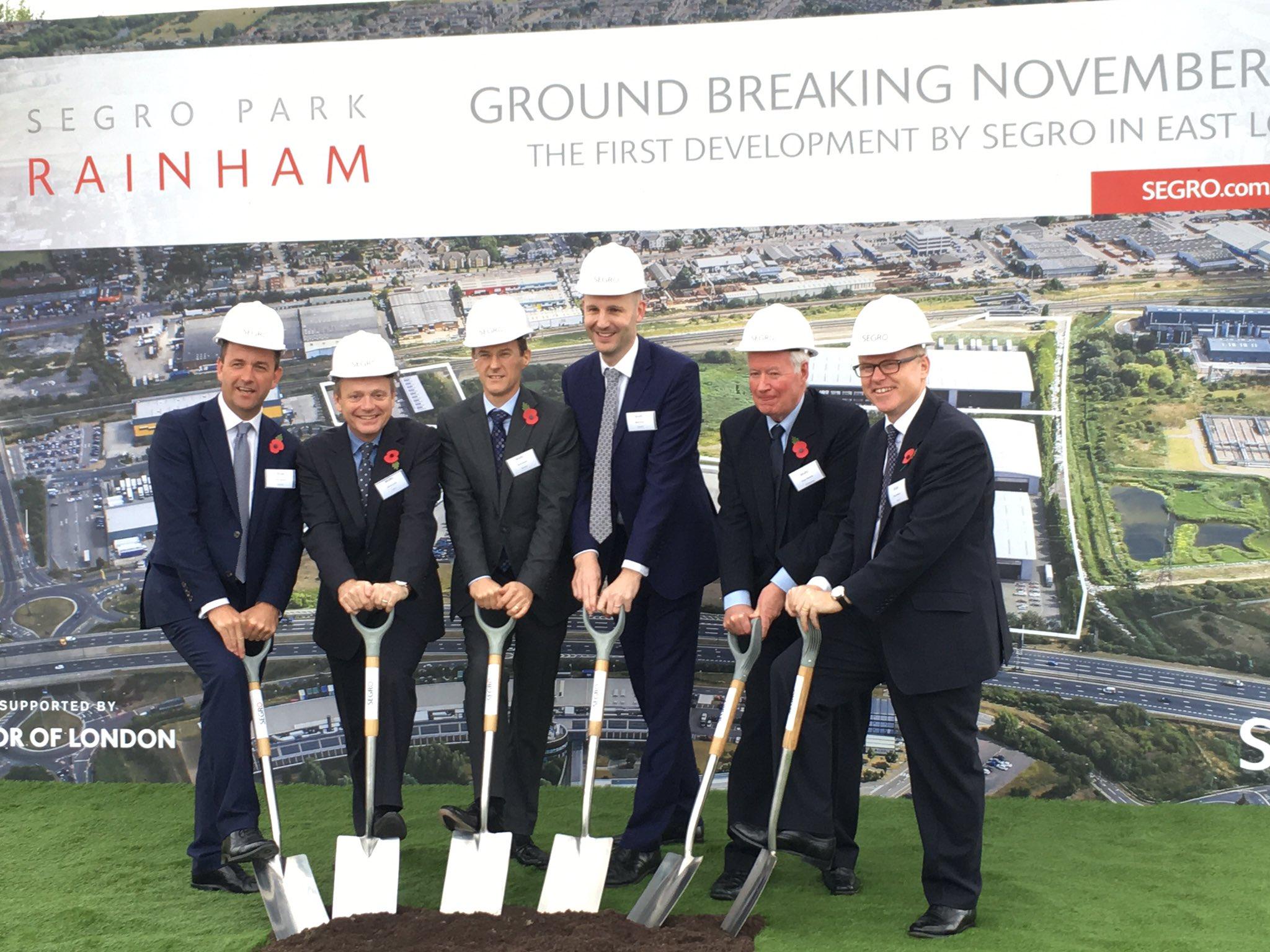 Groundbreaking ceremony at SEGRO Park Rainham
On 1 November, SEGRO plc hosted a ground breaking ceremony at its SEGRO Park Rainham development in East London.
The scheme, previously called Beam Reach 5, forms the first phase of the East Plus industrial property portfolio.
SEGRO was chosen as the Greater London Authority's development partner for East Plus in October 2015. The redevelopment, which covers 86 acres of brownfield land across Newham, Barking & Dagenham and Havering, is set to deliver 1.4 million sq ft of industrial space over the next 10 years and will act as a catalyst for the wider regeneration of London Riverside.
At the launch event, David Sleath, CEO of SEGRO, commented:
"Today represents an important milestone in our relationship with both the GLA and Havering Council.  As the Mayor of London's development partner, this ground breaking event marks the official start of the regeneration of the GLA's East Plus portfolio, which consists of 86 acres of vacant industrial land across five key sites in London Riverside.
Cllr Roger Ramsey, Leader of Havering Council, added:
"We are very pleased with the quality of proposals that SEGRO have developed for Beam Reach 5 since becoming the GLA's chosen development partner.  The scale and flexibility of units will create opportunities for our businesses to expand and grow and to attract new inward investment into the Borough.  We envisage that this will be the beginning of a wave of new development which will see this strategic industrial location expand and grow to better serve Havering, London and the South East."
The ground breaking ceremony followed an official tour for GLA representatives, local council delegates and stakeholders at the Centre of Excellence for Manufacturing and Engineering ("CEME").  During the tour, David Sleath, together with CEME CEO Bill Williams, launched a joint Gateway to Skills initiative, a £70,000 SEGRO investment package to develop and inspire the next generation of employees. The initiative will fund 1,000 students from Havering, Barking & Dagenham and Newham schools to participate in STEM skills training, a range of which were demonstrated as part of the tour.
Construction at SEGRO Park Rainham will be completed in two phases.  Phase one will provide 235,964 sq ft of modern speculative industrial space.  The development will consist of an 'Enterprise Quarter' with 42 units ranging from 500 sq ft to 2,000 sq ft, designed to attract and grow start-up and small businesses.  The plans also include another plot for three units of 15,000 to 22,000 sq ft and two detached units of 52,000 sq ft and 66,000 sq ft.  Phase two, which will begin in 2018, will be developed on a pre-let basis, and will see the construction of one detached industrial unit of 102,984 sq ft.
It is anticipated that the completed development could deliver up to 1,000 direct jobs and, in addition to its partnership with CEME, SEGRO is working with Havering Council to deliver a dedicated skills, training and employment programme to support both construction and occupation of the development.
The completed scheme, which will be developed to achieve a 'BREEAM Excellent' rating, will be one of the most sustainable industrial locations in London and the South East, featuring a number of environmental technologies including photovoltaic panels and solar walls to help reduce energy costs by up to 30%, as well as LED lighting and electric car charging points.