Plan for £4.7 million investment in sheltered housing
Posted: 8th Mar 2017 | Written by Katrina Gilbert
---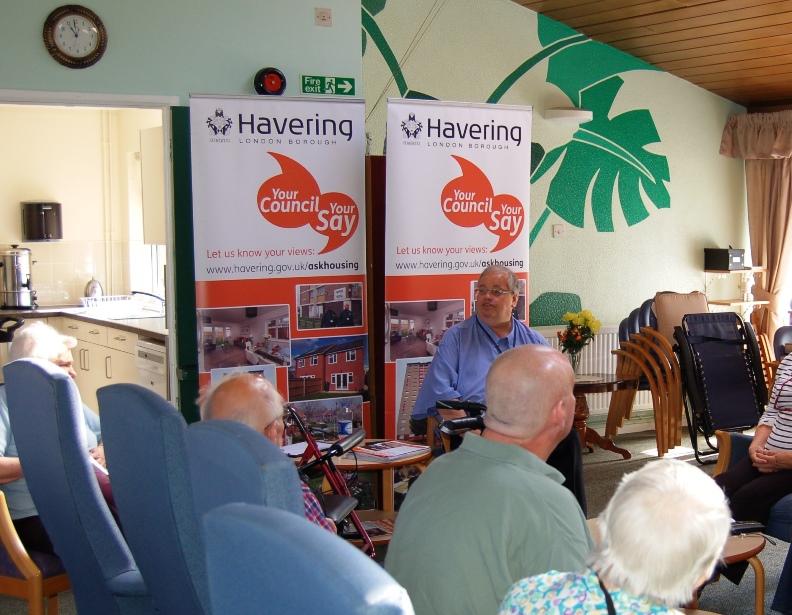 Housing Services officer briefs residents at William Tansley Smith House in Hornchurch on the regeneration plans.
A multi-million improvement scheme for 12 sheltered housing schemes across the borough will be discussed at Havering Council's Cabinet meeting on Wednesday 8 February.
The improvement scheme is part of the Council's commitment to provide high quality accommodation in Havering.
Deputy Leader of Havering Council and Cabinet Member for Housing, Councillor Damian White said:
"As part of the Housing Regeneration Programme we are closing four sheltered housing schemes and regenerating three more to a high standard. We also want to make sure that the 12 schemes which will remain open provide high quality accommodation for Havering's older residents.
"This £4.7 million investment programme aims to achieve that over the next two years. The work will include installing CCTV systems that will link to our central control centre in Romford and making sure that all the schemes are accessible by installing lifts or replacing steps with ramps or stair lifts as well as a range of other improvements to make the schemes friendlier for people with dementia or who have mobility difficulties.
"I hope Councillors will approve the money so we can make sure all our sheltered housing schemes, many of which have not had significant investment since they were built more than 40 years ago, are secure and pleasant places in which to live."
The housing schemes included in the programme are:
Bards Court, Harold Hill
Beehive Court, Harold Wood
Charlbury Court, Harold Hill
Cockabourne Court, Harold Wood
Cole Court, Harold Hill
Cottons Court and Fambridge Court, Romford
Garrick House, Hornchurch
Holsworthy House, Harold Hill
Poplar Street, Romford
Ravenscourt Grove, Hornchurch
Thomas Sims Court, Elm Park
William Tansley Smith House, Hornchurch